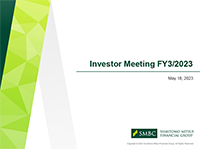 Download Materials
Medium-Term Management Plan
2020 - 2022
Our Vision
A trusted global solution provider committed to
the growth of our customers and advancement of society
Core Policy
Business Strategy
Transformation
Transform existing businesses
Growth
Seek new growth opportunities
Management Base
Quality
Elevate quality in all aspects
Business Strategies 
- Transformation & Growth -
Transform businesses to overcome intense competition and create new values for future growth.

Seven Key Strategies

Pursue sustainable growth of wealth management business
Improve productivity and strengthen solutions in the domestic wholesale business
Enhance overseas CIB business to improve asset / capital efficiency
Hold the number one position in payment business
Enhance asset-light business on a global basis
Expand franchise in Asia and strengthen digital banking
Develop digital solutions for corporate clients
Management Base 
- Quality -
Quality
Elevate quality in all aspects
ESG

Contribute to realize
a sustainable society
Enhance corporate
governance suitable
for a global bank

Resource management

Sophisticate HR
management to
motivate employees
Build flexible and
robust IT/cyber
infrastructure

Business management

Enforce sound risk-taking
Pursue efficient and
scientific management
Financial Targets
Profitability
Maximize profitability by increase of bottom-line profit and disciplined capital management
Efficiency
Reduce cost while investing for growth
Financial soundness
Secure ample level of capital on a Post-Basel Ⅲ reforms basis
*1 G&A expenses excluding revenue linked cost, prior investment cost and others
Basic Capital Policy
Achieve a healthy balance among securing financial soundness, enhancing shareholder returns, and investing for growth.
Sustainable growth of
shareholder value
ROCET1 target ≥ 8.5%
Shareholder returns
Dividends in principal
+ flexible share buybacks
Progressive dividends
Achieve dividend payout ratio
of 40% by March 2023
Investment for growth
Investment criteria
Fits with our strategy
ROCET1 ≥ 8.5% after synergies
Risk is manageable
Financial soundness
CET1 ratio target : c.10%
Download Materials
Related documents are available in PDF.