Promotion of Environmental Businesses
SMBC group considers that environmental businesses are means to preserve and improve the global environment while each company pursues its core business operations as a financial institution.
We will outline environmental businesses being conducted by SMBC Group companies, including solar power-based renewable energy operations and investment projects with a positive environmental contribution, as well as other environment-related products and services.
1. Environmental business creation
Initiatives Towards Realizing a Low-Carbon Society

As part of its initiatives to realize a low-carbon society, SMBC has promoted business activities related to emissions credits since 2005.
Specifically, SMBC provides financial support for energy conservation and renewable energy development projects conducted overseas with environmental technologies from Japan in connection with the Joint Crediting Mechanism (JCM), a new framework promoted by the Japanese government in the post-Kyoto Protocol era. Since fiscal 2010, the bank has conducted various business surveys for over thirty projects, primarily in Asia and Central and South America, while planning and developing financing schemes. Going forward, SMBC intends to utilize JCM to support overseas application of exceptional Japanese environmental technologies. It will take on environmental issues such as climate change, and continue to contribute to the development of a sustainable society.
*A mechanism utilized to achieve Japan's reduction targets that involves quantitatively assessing Japan's contribution to greenhouse gas reduction and absorption realized through promotion of low-carbon technologies, an area of specialty for Japanese companies, in developing countries and contributing to measures to combat global warming at the global level.

Please click on the link below for details regarding emissions credits and specific related initiatives.
Initiative Examples
Content
Study on Energy-Saving Systems for Caustic Soda and Chlorine Manufacturing Processes
Caustic soda and chlorine manufacturing facility in Central and South America. The study focused on converting from the conventional, energy-inefficient mercury-based process to the highly energy efficient ion exchange membrane method. The ion exchange membrane method is environmentally friendly, and conserves energy while also helping reduce use of mercury.
Use of mercury in the manufacturing process for caustic soda and chlorine will be banned beginning in 2025 under the Minamata Convention on Mercury, which goes into force in August 2017. Thereafter, mercury use is expected to decrease as worldwide caustic soda and chlorine manufacturing plants convert from a mercury-based process to ion exchange membranes.
Study on Capture, Utilization and Storage of Carbon Dioxide
In fiscal 2015 and fiscal 2016, SMBC investigated the feasibility of carbon capture, utilization and storage (CCUS) projects utilizing bilateral credit mechanisms in the Mideast and Central America. Such projects would utilize Japan's carbon capture technologies to capture carbon dioxide emitted from power stations from other gases to prevent its emission into the atmosphere and effectively utilize the captured carbon dioxide. The projects are expected to contribute to the achievement of new greenhouse gas reduction goals established in the Paris Agreement, which went into effect at the end of 2016.
Project Financing for Renewable Energy

For many years now, SMBC has been providing project finance for renewable energy businesses such as solar power generation and wind power generation in Japan and overseas. The bank as a strong track record in this area. Since no carbon dioxide is emitted in renewable energy in principle, these operations are deemed to reduce CO2 emissions because the power they generate can replace energy from non-renewable sources such as coal, oil and natural gas. Support for such projects contributes to reductions in CO2 emissions and environmental impact.
For further details on project finance, please refer to the following website.
Fiscal 2018 results
SMBC has conducted 49 renewable energy projects in fiscal 2018.

FY2018: CO2 emissions reductions from renewable energy projects (*)
Renewable energy projects in fiscal 2018 contributed to total reductions in CO2 emissions equivalent to 20,122,490 tons.

*CO2 reductions are calculated by determining annual estimated power generation based on the type of renewable energy and on generating capacities and facility utilization ratios, etc. at the target facilities in each country and then multiplying that value by the electric power emissions factors of each of the countries. The calculations do not take into account the proportion of financing provided by SMBC with respect to total project costs (financing share).
Source: Facility utilization ratios for wind power use figures for onshore and offshore wind farms from the European Wind Energy Association.
Solar, hydro and geothermal figures are from the "Report on Verification of Power Generation Costs, etc. to the Long-term Energy Supply and Demand Subcommittee" dated May 26, 2015. Figures for biomass power are calculated based on information disclosed by project operators.
Emissions factors are from the IEA's "CO2 Emissions from Fuel Combustion 2017 Edition."
Initiatives for Renewable Energy Through Business

SMBC Trust Bank conducts renewable energy business initiatives that include receiving on trust for solar power facilities and site usage rights (ownership, leasehold, and surface rights) and managing them as trust assets as the trustee paying dividends to beneficiaries on income from the electricity sold.
Initiatives for leasing "solar sharing" projects that combine agriculture with power generation

Sumitomo Mitsui Finance and Leasing provides leases for solar power generation equipment used in a solar sharing project where support columns are erected on farmland for the installation of solar panels while leaving space underneath to farm. The project is generating solar power on unused farmland in Fukushima Prefecture, while enabling production of ginger crops. Sales of electricity supplement the crop production to ensure a reliable income stream. This approach is attracting attention as a potential way to develop farmland in Japan, where many farmers are elderly and young people are moving to cities rather than take up farming.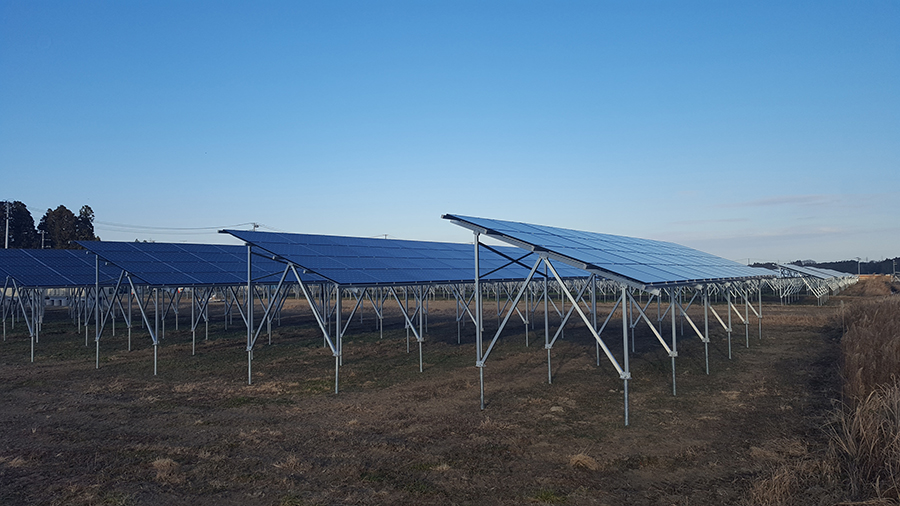 Solar panels attached to pillars built on farmland by Toyo Energy Farm Co., Ltd.
Initiatives for Growth Sectors

SMBC has identified six specific growth sectors as a growth industry cluster: new energy/energy management, the environment, infrastructure, healthcare, agriculture, and digital society to promote the creation of new business opportunities in these sectors for customers. Drawing on broad-ranging knowledge and networks developed through industry-government- academia alliances in Japan and overseas, the bank provides business support in respective areas.
| Initiative Examples | Content |
| --- | --- |
| Smart Grid Demonstration Project in Poland | A smart grid demonstration project utilizing Japan's grid stabilization and power storage technologies has been carried out in Poland by SMBC and other Japan-affiliated companies since fiscal 2016 on a contract from the New Energy and Industrial Technology Development Organization (NEDO). While renewable energies are being utilized at an accelerating pace, their power output varies depending on weather conditions, so as the amount of renewable energy sources increase, problems arise related to the power grid; specifically, maintaining the balance of power supply and demand on distribution networks and dealing with overloads. The demonstration project seeks to solve these grid issues by utilizing Japanese technologies to expand use of renewable energies in Poland and create a grid stabilization system that simultaneously reduces capital investment in power infrastructure and stabilizes the power grid. |
| Study on Utilization of Green Climate Fund | The Green Climate Fund (GCF) is a multilateral fund established based on the United Nations Framework Convention on Climate Change in order to support reductions to greenhouse gases and measures to address the impact of climate change in developing countries. SMBC conducted a feasibility study in fiscal 2016 and fiscal 2017 with multiple Japan-affiliated companies on geothermal power projects using the GCF in Papua New Guinea under the sponsorship of the Ministry of Economy, Trade and Industry. Going forward, through further studies and other initiatives, SMBC will work to form projects that utilize the GCF and support measures to address climate change in developing countries. |
Initiatives for Recycling and Reusing Through Leases

SMFL promotes the leasing of low-carbon emission equipment which meets the criteria set forth by the Ministry of the Environment by utilizing the subsidies provided by the Ministry for such leases. In addition, property with expired leases, or machinery and equipment purchased from customers are sold to other customers based on their needs. SMFL strives to become a leasing company that is environmentally friendly by implementing these initiatives to recycle and reuse through the purchasing and selling of secondhand machinery.
Consultation for Environment-Related Business

Environmental Advisory Business
It engages in numerous environmental projects mainly in the energy and smart community fields.
It strives to contribute to the resolution of global-warming issues and development of environment-friendly businesses by the creation of new businesses.

Proposals for Energy-Related Policies
The Great East Japan Earthquake led to the substantial review of the Japan's energy policy.
JRI makes recommendations and proposals for energy systems of next-generation and energy strategies for Japan. For detailed examples from JRI, please refer to the following website.
JRI: Economy & Policy report(Environment, Energy) (Japanese only)
Overseas Alliances Related to Environmental Business

In emerging countries, the need for economic development that is balanced with the global environment is driving remarkable progress in local environmental business markets. SMBC has signed multiple memorandums of understanding (MOUs) for building bridges with Japanese companies with environmental technologies in emerging countries, financing environment-related projects, and providing know-know on emissions credit trading.
Through these and other efforts, the bank continues to work to strengthen its environmental business networks with emerging countries.
Going forward, we will utilize our environmental business knowledge and experience as a diverse financial group to meet a variety of needs in environment and energy and other fields.
2. Initiatives for Environmental Conservation Through Financial Products

SMBC Group develops and supplies financial solutions and products for customers engaged in addressing various social issues, notably climate change and other environmental issues through promotion of energy and resource conservation and countermeasures for global warming.
Please visit the link below for more details on SMBC Group's financial solutions lineup
3. Initiatives for Environmental Protection Through Investment

In October 2017, SMBC invested in Tokyo Green Bonds (*) issued by the Tokyo Metropolitan Government, an initiative for contributing to society through asset management.

*Green bonds are bonds issued to raise funds for green projects. Tokyo Green Bonds have been assessed by an independent institution as being consistent with the characteristics of "green bonds" as defined by the International Capital Market Association (ICMA).

The bank plans to allocate funds raised through the issue of Tokyo Green Bonds to environmental measures, urban development projects based on smart energy and a vision of the cool, clean and pleasant city, and projects for adapting to the impact of climate change.
| | |
| --- | --- |
| Bond name | Tokyo Green Bond (5-yr. / 30-yr.), first issue |
| Ratings | A+(S&P) |
| Total amount issued | ¥10.0 billion |
SMBC will continue to contribute to the sustained development of society as a whole through initiatives for the environment, which SMBC Group has specified as one of its key priority issues, and will continue to work to secure investment income and raise corporate value through diverse investment initiatives for more highly advanced, multifaceted forms of investment and by demonstrating its core functions as an institutional investor.
SMBC: Invested in Tokyo Green Bonds issued by the Tokyo Metropolitan Government (Japanese only)
More information related to this topic