Promotion of Environmental Businesses
SMBC group considers that environmental businesses are means to preserve and improve the global environment in its core business operations as a financial institution.​
We will outline our environmental businesses, including solar power-based renewable energy operations and investment projects with a positive environmental contribution, as well as other environment-related products and services.​
Measures Being Taken for Green Finance​
The SMBC Group proactively endeavors to solve environmental and social problems through the core businesses of the respective Group companies. Particularly concerning environmental problems, a goal has been set to handle green finance deals dedicated to the environmental field involving total financing in the amount of ¥10 trillion over ten years by fiscal 2029.
For instance, in the area of power generation via renewables (where certain forms of nature's power are employed, e.g., solar energy, wind power), various services are being provided by relevant Group companies leveraging their respective advantages, for example, lending by SMBC; trust service by SMBC Trust Bank concerning power generation facilities, construction sites, etc.; provision of leases by SMFL for power generation facilities; and equity investment by SMBC Nikko Securities. Altogether, we will pursue such initiatives as an integrated group for general financial services.​
Project Financing for Renewable Energy​

For many years now, SMBC has been providing project finance for renewable energy businesses such as solar power generation and wind power generation in Japan and overseas. The bank has a strong track record in this area. Since no carbon dioxide is emitted in renewable energy in principle, these operations are deemed to reduce CO2 emissions because the power they generate can replace energy from non-renewable sources such as coal, oil and natural gas. Support for such projects contributes to reductions in CO2 emissions and environmental impact.
For further details on project finance, please refer to the following website.
Fiscal 2019 results
SMBC has conducted 68 renewable energy projects in fiscal 2019​

FY2019: CO2 emissions reductions from renewable energy projects (*)
Renewable energy projects in fiscal 2018 contributed to total reductions in CO2 emissions equivalent to 17,643,260 tons.

(*) Estimated volume of reduction in carbon emissions: The estimated volume of power generation is calculated by referencing the type of renewable-based generation and employing generation capacity as well as the operation rate of target facilities by country; then the estimated volume of power generation is multiplied by the emissions coefficient for the power generation sector of the respective countries to calculate the estimated reduction volume in carbon emissions. Note that for the above calculations, the share of loans extended by SMBC among the total project budget was not considered.​
Source: In terms of facility operation rate, data were quoted from Wind Europe "Wind Energy in Europe in 2019 - Trends and Statistics" concerning wind power generation (overseas), with a breakdown for offshore vs. onshore; and data were additionally quoted from the "Report on Validation of Power Generation Cost, as Submitted to the Subcommittee of the Outlook on the Long-term Energy Supply-Demand Balance (held on May 26, 2015)" concerning PV, wind power (domestic), water power, and geothermal power. Regarding biomass power generation, operation rates were calculated by referencing the information disclosed by respective companies. ​
The emissions coefficient for the power generation sector: Quoted from IEA "CO2 Emissions from Fuel Combustion, 2019 edition." ​
Initiatives for Renewable Energy Through Business

SMBC Trust Bank conducts renewable energy business initiatives that include receiving on trust for solar power facilities and site usage rights (ownership, leasehold, and surface rights) and managing them as trust assets as the trustee paying dividends to beneficiaries on income from the electricity sold.​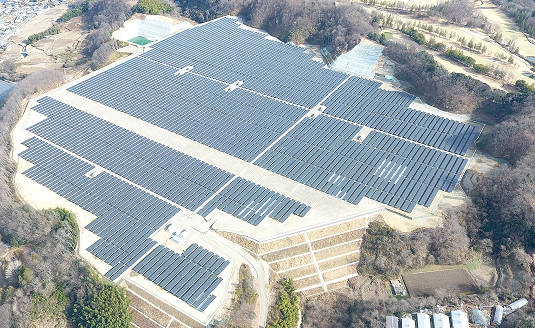 Initiatives for leasing "solar sharing" projects that combine agriculture with power generation

Sumitomo Mitsui Finance and Leasing provides leases for solar power generation equipment used in a solar sharing project where support columns are erected on farmland for the installation of solar panels while leaving space underneath to farm. The project is generating solar power on unused farmland in Fukushima Prefecture, while enabling production of ginger crops. Sales of electricity supplement the crop production to ensure a reliable income stream. This approach is attracting attention as a potential way to develop farmland in Japan, where many farmers are elderly and young people are moving to cities rather than take up farming.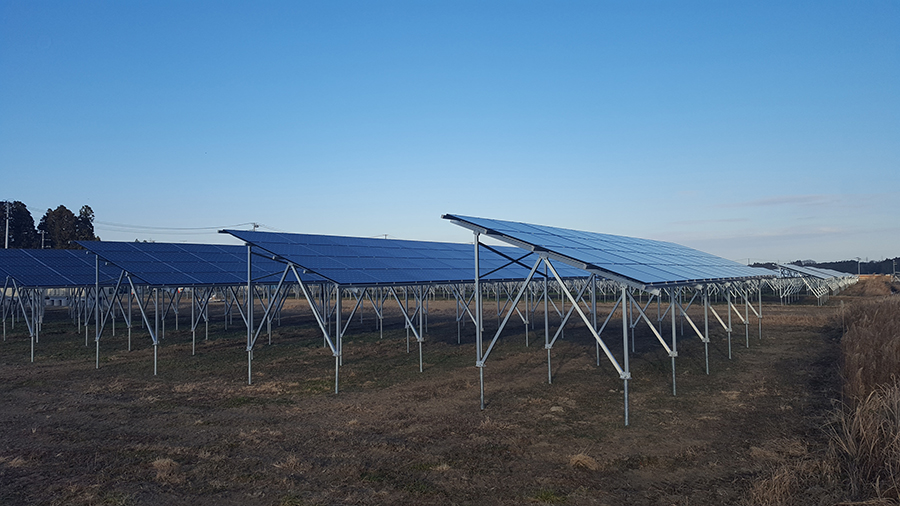 Solar panels attached to pillars built on farmland by Toyo Energy Farm Co., Ltd.
Support for Green Bond Issuance

In September 2018, SMBC Nikko formed the SDGs Finance Dept., which is responsible for providing advice on funding through SDG bonds (e.g. green bonds) and presenting related proposals. Also, SMBC Nikko became a member of the Climate Bonds Partners Programme(*), which is run by the Climate Bonds Initiative (CBI), in order to further promote support for activities related to the SDGs and climate change problems. SMBC Nikko will continue to support many green bond issuance deals and pursue relevant investments going forward as well while strengthening the collaboration with CBI through its membership in the said Programme.
​(*) The Programme is being promoted by the Climate Bonds Partners membership to support activities of relevant investors and stakeholders as well as related educational projects, for the purpose of ensuring sustainable growth of the green bond market which can contribute to adequate adaptation to climate change and effective investments for carbon reduction
Environmental business creation
Initiatives Towards Realizing a Low-Carbon Society

As part of its initiatives to realize a low-carbon society, SMBC has promoted business activities related to emissions trading since 2005.​
Specifically, SMBC provides financial support for energy conservation and renewable energy development projects conducted overseas with environmental technologies from Japan in connection with the Joint Crediting Mechanism (JCM), a new framework promoted by the Japanese government in the post-Kyoto Protocol era. Since fiscal 2010, the bank has conducted various business feasibility study for over thirty projects, primarily in Asia and Central and South America, while planning and developing financing schemes. Going forward, SMBC intends to utilize JCM to support overseas application of exceptional Japanese environmental technologies. It will take on environmental issues such as climate change, and continue to contribute to the development of a sustainable society. ​
*A mechanism utilized to achieve Japan's reduction targets that involves quantitatively assessing Japan's contribution to greenhouse gas reduction and absorption realized through promotion of low-carbon technologies, an area of specialty for Japanese companies, in developing countries and contributing to measures to combat global warming at the global level.​
Please click on the link below for details regarding emissions credits and specific related initiatives.​
Initiatives for Growth Sectors

SMBC Sustainable Business Promotion Department has identified three specific growth sectors : new energy/energy management, the environment and agriculture society to promote the creation of new business opportunities in these sectors for customers. Drawing on broad-ranging knowledge and networks developed through industry-government- academia alliances in Japan and overseas, the bank provides business support in respective areas.​
| Initiative Examples | Content |
| --- | --- |
| Smart Grid Demonstration Project in Poland​ | A smart grid demonstration project utilizing Japan's grid stabilization and power storage technologies has been carried out in Poland by SMBC and other Japan-affiliated companies since fiscal 2016 on a contract from the New Energy and Industrial Technology Development Organization (NEDO). While renewable energies are being utilized at an accelerating pace, their power output varies depending on weather conditions, so as the amount of renewable energy sources increase, problems arise related to the power grid; specifically, maintaining the balance of power supply and demand on distribution networks and dealing with overloads. The demonstration project seeks to solve these grid issues by utilizing Japanese technologies to expand use of renewable energies in Poland and create a grid stabilization system that simultaneously reduces capital investment in power infrastructure and stabilizes the power grid.​ |
| Study on Utilization of Green Climate Fund​ | The Green Climate Fund (GCF) is a multilateral fund established based on the United Nations Framework Convention on Climate Change in order to support reductions to greenhouse gases and measures to address the impact of climate change in developing countries. SMBC conducted a feasibility study in fiscal 2016 and fiscal 2017 with multiple Japan-affiliated companies on geothermal power projects using the GCF in Papua New Guinea under the sponsorship of the Ministry of Economy, Trade and Industry. Going forward, through further studies and other initiatives, SMBC will work to form projects that utilize the GCF and support measures to address climate change in developing countries. |
General Contractor Business for the Disposal of Facilities and Plant Sites

SMFL and SMFL MIRAI Partners started a general contractor business for the disposal of facilities and plant sites, through the establishment of SMART Incorporated jointly with ARBIZ Corporation. Concerning machines and facilities for which the lease period expired or is held by our clients but no longer needed, reusable items would be employed by SMFL for resale, while items that cannot be reused would be purchased or taken over free of charge by the new company. Machines and facilities to be disposed of would then be segregated into marketable items (e.g. metal scrap; waste plastics) and industrial waste. Marketable items are sold to scrap traders, while industrial waste is handed over to waste treatment dealers. Through facilitating the reuse of recycled items, companies are curbing the volume of industrial waste and adequately supporting final disposal processes, while promoting 3R activities by leveraging knowledge and know-how concerning a wide range of tangible products that are advantageously held by leasing companies, to contribute to the realization of a circulating type of society.​
Consultation for Environment-Related Business

Environmental Advisory Business
It engages in numerous environmental projects mainly in the energy and smart community fields.​
It strives to contribute to the resolution of global-warming issues and development of environment-friendly businesses by the creation of new businesses.

Proposals for Energy-Related Policies
The Great East Japan Earthquake led to the substantial review of the Japan's energy policy.​
JRI makes recommendations and proposals for energy systems of next-generation and energy strategies for Japan. For detailed examples from JRI, please refer to the following website.
JRI: Economy & Policy report(Environment, Energy) (Japanese only)
Overseas Alliances Related to Environmental Business

In emerging countries, the need for economic development that is balanced with the global environment is driving remarkable progress in local environmental business markets. SMBC has signed multiple memorandums of understanding (MOUs) for building bridges with Japanese companies with environmental technologies in emerging countries, financing environment-related projects, and providing know-know on emissions credit trading. ​
Through these and other efforts, the bank continues to work to strengthen its environmental business networks with emerging countries.​
Going forward, we will utilize our environmental business knowledge and experience as a diverse financial group to meet a variety of needs in environment and energy and other fields.​
Initiatives for Environmental Conservation Through Financial Products
SMBC Group develops and supplies financial solutions and products for customers engaged in addressing various social issues, notably climate change and other environmental issues through promotion of energy and resource conservation and countermeasures for global warming. ​
Please visit the link below for more details on SMBC Group's financial solutions lineup​
Initiatives for Environmental Protection Through Investment

In October 2017, SMBC invested in Tokyo Green Bonds (*) issued by the Tokyo Metropolitan Government, an initiative for contributing to society through asset management.​
​
*Green bonds are bonds issued to raise funds for green projects. Tokyo Green Bonds have been assessed by an independent institution as being consistent with the characteristics of "green bonds" as defined by the International Capital Market Association (ICMA).​​
​
SMBC plans to allocate funds raised through the issue of Tokyo Green Bonds to environmental measures, urban development projects based on smart energy and a vision of the cool, clean and pleasant city, and projects for adapting to the impact of climate change.​
| | |
| --- | --- |
| Bond name | Tokyo Green Bond (5-yr. / 30-yr.), first issue |
| Ratings | A+(S&P) |
| Total amount issued​ | ¥10.0 billion |
SMBC will continue to contribute to the Sustainable development of society as a whole through initiatives for the environment, which SMBC Group has specified as one of its key priority issues, and will continue to work to secure investment income and raise corporate value through diverse investment initiatives for more highly advanced, multifaceted forms of investment and by demonstrating its core functions as an institutional investor.​
​SMBC: Invested in Tokyo Green Bonds issued by the Tokyo Metropolitan Government (Japanese only)
More information related to this topic