Special Features
Special Feature 1: Development of a Next-Generation Core Banking System to Support the Digital Era
Special Features:
SMBC Group's Digital Strategies Transcending Finance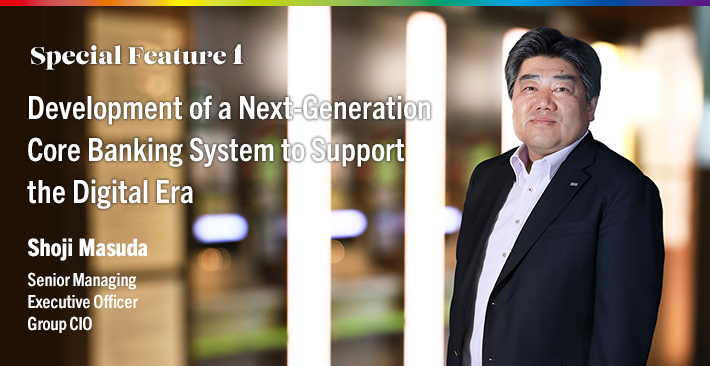 SMBC has begun the development of a next-generation core banking system for the purpose of supporting the digitalization of the improvement of customer service and work processes. In this feature, we look at the background for our efforts to develop a system that builds upon our reputation for reliability and efficiency while also offering the flexibility and speed necessary for responding to future changes.
Pursuit of Banking Services Available Anywhere and at Any Time
One goal of the development of a next-generation core banking system is to provide non-stop online services that can be used at any time of day. As transactions become increasingly diverse and global, demand is rising among customers for online services that can be accessed around the clock. Under existing systems, however, online services have to be halted on Sunday nights to undergo maintenance. The next-generation core banking system currently under development will make it possible to conduct online bank transfers and to perform withdrawals or deposits at convenience store ATMs at any time of day. Moreover, this system will offer an expanded range of features, including services for immediate global transactions, such as overseas money transfers, and extended processing windows to increase customer convenience.
Construction of Forward-Looking Foundations
An important element of redeveloping our systems is to further build upon our reputation for reliability and efficiency while also ensuring that the new system offers the flexibility and speed necessary for responding to future changes.
SMBC has always been swift to update its banking systems. In 1994, then Sumitomo Bank undertook a complete overhaul of its banking systems a step ahead of the rest of the industry. This overhaul entailed the installation of a cutting-edge system for performing large-scale batch processing of account transfer transactions on an individual transaction basis (online batch processing). Furthermore, we were able to integrate our systems at low cost during the 2002 merger, which combined large-scale banks to create Japan's first megabank, by incorporating systems into the banking systems of the former Sumitomo Bank. Later, in 2009 we developed the frameworks necessary for operating all banking programs through open systems. This transformation gave us the option of adopting lower system costs while making it easier to incorporate the latest technologies. The current project for developing a next-generation core banking system uses the approach of expanding systems based on our online systems.
Evolution of SMBC's Banking System

Low-Cost Development through the Utilization of Existing Systems
In renovating our systems, we examined the possibility of completely overhauling systems in ways that included rebuilding existing online systems from scratch. However, a survey of our existing systems produced favorable scores with regard to indicators of program complexity and volume, and there were no aspects of systems that had become inaccessible black boxes. It was therefore judged that there was no need for a complete overhaul of our systems, leading us to take the option of renovating systems while using the existing systems as a base. This approach is projected to allow us to limit system renovation costs to ¥50 billion, as opposed to the hundreds of billions estimated to be necessary for a complete overhaul.
The next-generation core banking system will include an open platform for the utilization of advanced technologies. Through this platform, a ledger mirror database will be compiled by copying the entirety of the general ledger in real time. This methodology will allow for the swift, low-cost development of new functions and products without placing additional burden on the mainframe that monitors the ledger while also making it possible to analyze the ledger in its entirety in real time. In the past, SMBC used an event-based marketing approach through which products were proposed based on customers' transaction histories. Going forward, however, we will use the new system to adopt a one-to-one marketing approach through which we propose the ideal product for each individual customer based on swift analysis of more dynamic customer data. We are also eying the development of new businesses as a platform holder. To this end, we are implementing a banking application programming interface (API) for realizing substantial improvements in the connectivity of internal and external systems while accelerating flexible coordination with various partner companies.
At the same time, we will partner with NEC Corporation to outfit the banking system for managing ledgers with a next-generation NEC mainframe to further build upon the reputation for reliability and efficiency we have cultivated thus far.
Optimal Mix of Open Platforms and Mainframes
To create a system featuring an optimal mix of open platforms and mainframes, which could be said to be an amalgamation of past system development initiatives, we are utilizing technologies developed in preparation for the transition from our existing systems. Few of the world's financial institutions employ this type of system, and we will have a huge lead on other megabanks in terms of services and functions after the completion of our new system. Going forward, SMBC Group will continue its quest to create unprecedented value in order to accommodate the advancement of the digitalization trend.
Characteristics of Next-Generation Core Banking System