Special Features
Special Feature 2: Creation of the Financial Group Most Chosen by Customers through the Power of Design
Special Features:
SMBC Group's Digital Strategies Transcending Finance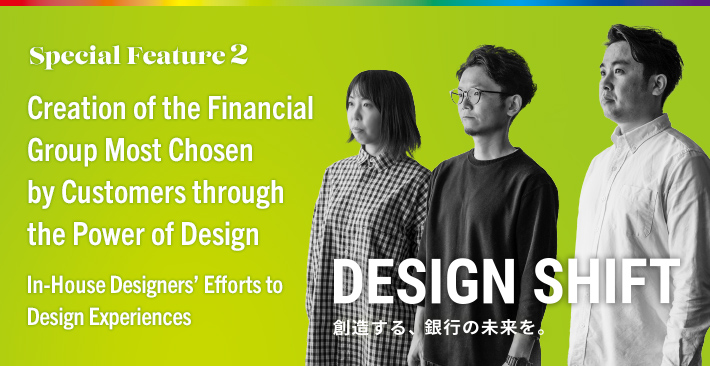 Customers are at the heart of SMBC Group's digitalization efforts. Through digitalization, we aim to deliver services with the same level of hospitality and dedication as on-site transactions and to provide new experiences that can only be realized through digital technologies. In this feature, we introduce the efforts of the in-house designers who are designing such new experiences to break the mold of their traditional roles and to create new digital services that are unique to SMBC Group.
Role and Domain of In-House Designers
In-house designers are expected to understand SMBC Group's culture and values and to call upon their robust experience and masterful techniques to design services.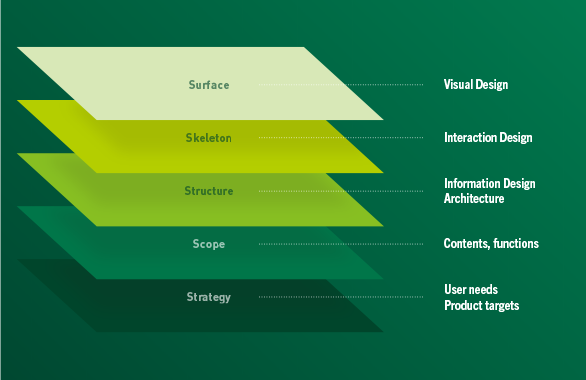 Hiroshi Kanazawa Hiroshi Kanazawa completed a graduate textile design program at Musashino Art University in 2008. After graduating from this program, he went on to act as a modeling artist and a web designer while also working as a fine arts professor before joining a web design company in 2011. At this company, Kanazawa was responsible for developing websites for major companies and on-site online banking services. He became the first designer at SMBC in 2016 and is currently providing his services as a specialist in the Human-Centered Design approach of Human-Centered Design Organization (HCD-Net).

Naoki Kaneko After graduating from university, Naoki Kaneko joined a recruitment firm in 2004, where he was responsible for corporate marketing. He then started his own company together with a colleague in 2006. His role in this company centered around e-commerce website operation and website and smartphone app planning and production. He moved on in 2013, taking up a website planning, production, and operation position at the marketing arm of a major advertising firm before joining SMBC in 2017. He is also a specialist in the Human-Centered Design approach of HCD-Net.

Yuko Hori Yuko Hori joined SMBC in 2017 and took up a position designing banking applications, webpages, and banking system user interface and experience. Participating in projects from the upstream design phase, which includes usability tests, user interface specification design, and visual design, she has been involved in proposing and producing concrete design and visual concepts. She is also a specialist in the Human-Centered Design approach of HCD-Net.
SMBC Group's design team is a group of professionals who passionately believe that design can transform traditional banking culture.
This team has put forth a four-part mission statement (shown to the right) that guides its members in their uncompromising pursuit of higher-quality services for customers as they seek to strike a balance between business viability and design.
Designer Mission Statement
Strong Presence
A company's presence is reflective of an ability to accomplish goals and influence others.
We believe that design has the power to create positive value for banks as well as for the rest of society, and we will therefore continue our efforts to develop a stronger presence through design.
Core of Design Management
The role of design management is to improve corporate competitiveness through enhanced brand image and increased capacity for innovation.
As an organization that is core to design management, we must remain, in our daily efforts, aware that design, right down to the most minute details of our craft, is directly linked to corporate competitiveness.
First-Rate Personnel, First-Rate Quality
It is a given that customers will be supplied with the desired quality, based on the differences that can only be seen through a professional's eye, at the ideal time.
Our first-rate personnel seek to provide new standards for first-rate quality that overwrite customer expectations.
Self-Sculpted Environment for Excellence
Designers give form to ideas with no tangible form and therefore must be ready, at times, to create the necessary tools for this task.
It is unsightly to complain about lacking the necessary environment; if the environment is lacking, we will sculpt it ourselves.
Efforts of In-House Designers
Redesigning of the SMBC App
Creation of an App That is Easy to Use for Digital Novices and Experts Alike
SMBC views its app as providing an exclusive branch, or approximately 9 million branches* in all, for every customer who downloads the app. This app was redesigned in March 2019. In redesigning the app, in-house designers carefully crafted everything from the function menu, control feel, and coloring to create digital branches that offer the same ease of everyday use and reliable service in times of need that SMBC is known for.
*

Approximate number of app downloads as of June 30, 2021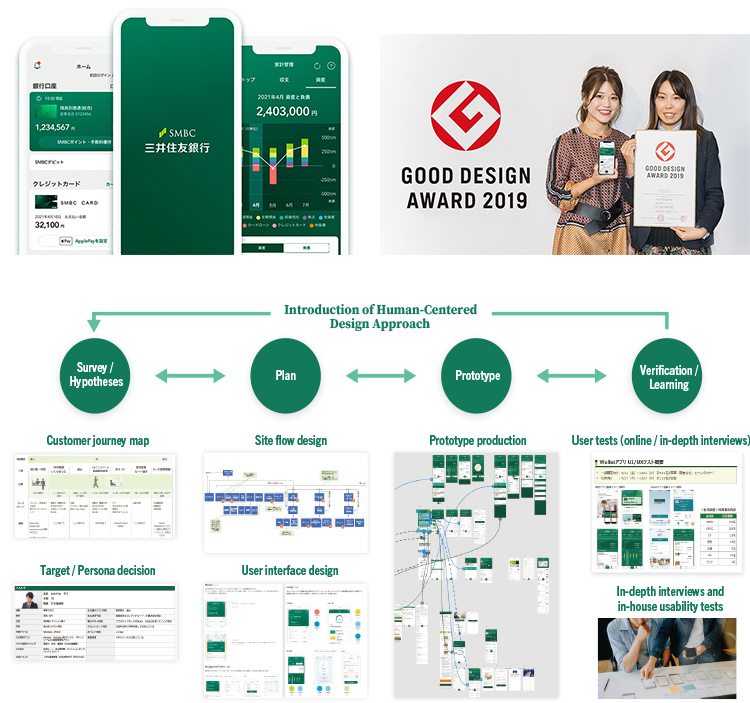 Review of the March 2019 App Redesign
In redesigning our app, we adopted a Human-Centered Design approach that entailed developing the interface based on observations of the natural behavior of people and of user-friendliness.
Through this process and through repeated user tests, we verified every aspect of the app, ranging from button locations and colors to how the screen reacts to taps. At the time, we were among the first in the industry to identify customer demand for a way to track the history of transactions with other, non-SMBC financial institutions in an integrated manner. This recognition prompted us to link data and functions with the Sumitomo Mitsui Card app as well as with the Moneytree personal finance management app. Other companies have since followed suit. The inclusion of additional functions increases convenience while also creating the risk of making an app too complicated to use. For this reason, the utmost attention was paid to ensuring use was intuitive.
A year-on-year increase of 80% was seen in new downloads in the three-month period after the launch of the redesigned app, and we were even presented with an award for this app in the 2019 GOOD DESIGN AWARD program. Going forward, SMBC Group will ramp up its design initiatives to further the evolution of this app.
SMBC Website Redesign
SMBC's website serves as the digital entryway for the Company. On March 22, 2021, a redesigned version of this website was launched. The redesign was based on the concept of providing courteous customer service that is on par with our face-to-face service. In the redesign process, in-house designers fundamentally reinvented the user interface and then went on to install new experiences, such as a questionnaire function that allows us to solicit information on the desires of customers.
SMBC Tablets
Digital technologies are transforming how we communicate with customers even in face-to-face settings. Seeking to make our time with customers more meaningful, members of our sales staff teamed up with in-house designers to reinvent our sales-use tablets through a process of ongoing discussion and user tests. The reinvented tablets feature several new functions, such as favorite registries and "My Folder" functions that contribute to smooth sales proposals.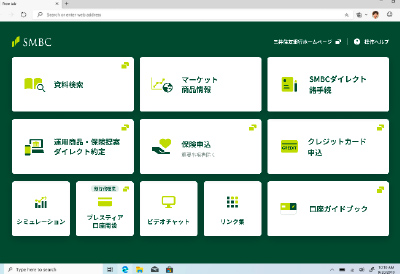 Design System
SMBC Group is committed to providing its customers with consistent service, even as its range of customer contact points expands to include venues such as its website, internet banking, apps, and SMBC tablets. To facilitate service consistency, we have prepared a design system as a shared development tool through an effort centered on in-house designers. This design system will be used as the basis for the services that we supply going forward.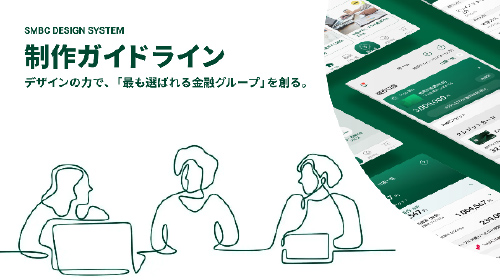 Other Design Team Efforts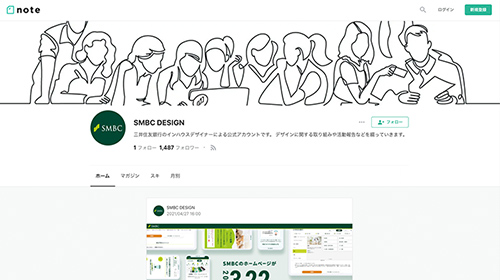 Official note Account (Japanese Only)

In-house designers operate our official note account that provides information on design-related activities.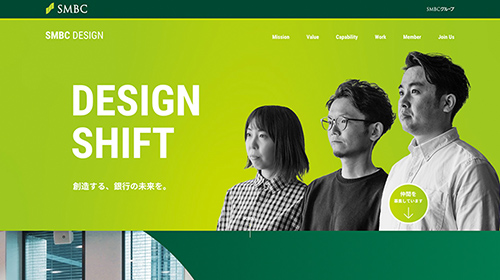 Designer Website (Japanese Only)

SMBC Group has created a website that displays designer profiles and introduces the projects of these designers. Also, we have ramped up the recruitment of mid-career designers.