Priority Issues (Materiality)
Priority Issues (Materiality) that SMBC Group Should Address
SMBC Group has set "Environment", "Community", and "Next Generation" as priority issues in order to respond to requests from stakeholders and contribute to solving social issues.
In addition, with a view to 2030, which is the goal of the SDGs, we are clarifying the items and issues to be tackled and working on them.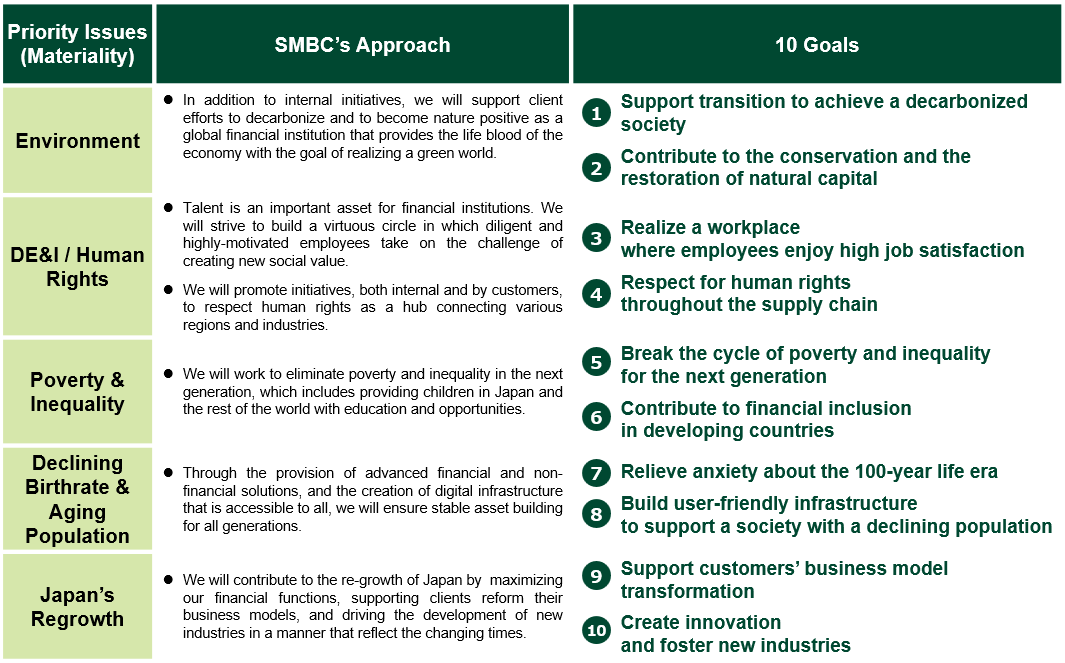 Initiatives for Priority Issues
Review of Priority Issues (Materiality)
In light of constantly changing social trends and a reassessment of the relative importance of the Group's priority issues among its stakeholders, and in order to adapt our activities to these developments, in fiscal 2013 SMBC Group reviewed our priority issues and have derived three new themes - "Environment," " Community," and " Next Generation " - as our medium- to long-term priority issues that form the core of SMBC Group's activities. In identifying these priority issues, we made use of the G4 sustainability reporting guidelines issued by the Global Reporting Initiative (GRI), and with participation from all Group companies, we derived an order of priority for various social issues. We also engaged in dialog with experts to assess the relative importance assigned by our stakeholders to the issues.
Management Base